"Our curriculum is ambitious and engaging. It is designed to give all students knowledge, understanding, confidence and a strong sense of self, whilst developing relevant skills they need to contribute to their community and to the wider society."
Curriculum Organisation
KEY STAGE 3 – Years 7, 8 and 9
All students follow a general course comprising English, Mathematics, Science, Technology, Information Technology, Geography, History, Religious Education, French, Art, Music, Drama, Personal and Social Education and Physical Education/Games.
In Year 7, students are placed into sets for Mathematics, English, Modern Foreign Languages and PE. In Years 8 and 9, these arrangements extend into other subject areas. Special provision is made for students with learning difficulties or special needs.
In the Spring Term of Year 9, students and parents are consulted regarding subject choices and future courses.
KEY STAGE 4 – Years 10 and 11
All students take courses leading to GCSE or other appropriate examinations. As core subjects, all students take English, Maths, Science, Physical Education and a Personal and Social Education course which includes Religious Education, Careers Guidance and Health Education, and are given the opportunity to be involved in a work experience programme. A modern foreign language is also taken by the vast majority of students.
Great care is taken to ensure that the other subjects chosen offer each student a broad and balanced education. Subjects on offer include History, Geography, Business Studies, Computer Science, ICT, Design and Technology (including, Product Design, Catering and Textiles), Art, 3D Art, Drama, Graphic Communication, Music, Religious Education, Physical Education, Health and Social Care and Psychology.
Most Able / Aspiration
Thomas Adams seeks to raise the aspirations of all students. For our students who are classed as Most Able and a few handpicked individuals, we have our aspire group which meets on a regular basis during form time which provides them with a programme designed to raise aspiration and support them academically. For more information about the programme, please follow the link here.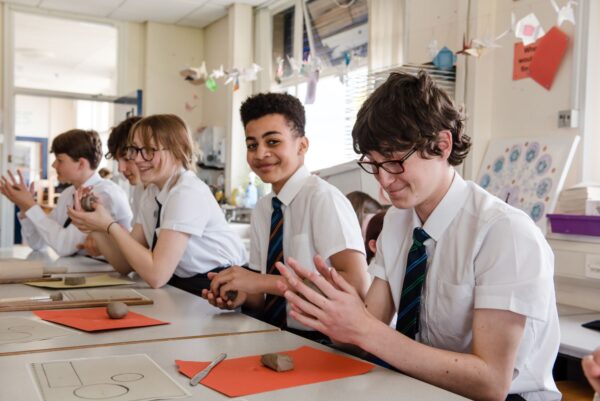 The Big Picture
The "Big Picture" aims to outline all the key facets of our curriculum, allowing interested parties to find key information relating to the building blocks of our offer. By simply clicking on the image below, you will be able to access a PDF version giving you access to hyperlinks for the following:
Curriculum Intent
This outlines the curriculum vision and how is reflects our core values of Respect, Resilience and Success. By clicking on Curriculum Values it will take you to our Curriculum Policy.
Curriculum Implementation
This section highlights how we bring our curriculum to life and includes the following links:-
Curriculum Components:-
The Curriculum Planning link will take you directly to an overview of the school curriculum for each Key Stage.
Lessons will take you to out "Lesson Expectations" stating how we aim to make every lesson count.
Curriculum Mapping will allow you to see what will be taught by each subject.
Subject Literacy Strategies will allow you to see how we incorporate reading in the curriculum.
Transition will take you to our prospectus for both the school and our sixth form.
"My Future" will provide you with an outline of our PSHE Programme. This is further supported by our RSE (Relationships and Sex Education) Policy that outlines our approach.
The SMSC link will provide an insight into how each subject enriches our students social, moral, spiritual and cultural awareness. This is further supported by our Assembly Programme that highlights the topics covered over the academic year.
Enrichment will allow you to see the wider offer we have for our young people outside of the lessons.
Careers Education will take you to our dedicated Careers Advice page.
Click on any of the subjects in the Curriculum Offer section and it will take you to a video outlining all the information you need about that particular subject.
The Common Practice Expectations section highlights all the key aspects of our teaching delivery, with links to our Marking and Feedback policy (Feedback and Reflection), Subject's approaches to providing students with feedback (Review of Learning), Assessment Policy (Assessment) and our dedicated Literacy Page (Literacy).
Curriculum Impact
And finally, the statements in this section are what we want our young people to achieve at the end of their curriculum journey.
This is an ever evolving site and we aim to keep you informed of any developments. In the meantime, please do not hesitate to contact us via email: contactus@tas.318education.co.uk
 Tom McAleavy (Deputy Headteacher)